CardioReportware™ Supplies Full HL7 Support
CardioReportware fully supports the HL7 interface and seamlessly integrates reports, results, billing information, demographic data, and orders with any enterprise medical record systems. Contact us for a full demo.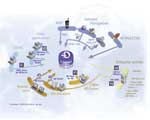 Results
Through the results interface, exam results are automatically sent to any hospital system that support HL7 (Last Word, Envision, IDX, etc.) The results are automatically uploaded when a physician finalizes a case so there is no manual intervention. Procedural reports are instantly sent to the enterprise medical record systems. And, when a case is closed, the exam reports are automatically printed, faxed to the referring physicians, faxed to different location in the hospital, e-mailed, and uploaded to HL7 systems. All of the options are easily customized from within the system.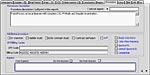 Billing
Like results, billing information and billing codes are automatically sent to any hospital supporting HL7 (Last Word, Envision, IDX, etc.) ICD-9, CPT, and DRG charge codes can also be included and results are automatically uploaded when a physician finalize a case or sent later with a pre-set delay. Automatic credit and re-debiting in the case of revised or canceled exams, limited or interrupted exams are also built into CardioReportware. Customization is easily done from the Maintenance module.

ADT
CardioReportware automatically downloads and synchronizes patients' demographic and billing information from hospital systems. Full updates and automatic synchronization functions like: update, modify, patients merge, corrections, and discharge are also available. CardioReportware and ADT HL7 increases the accuracy of data transmissions so that you can be confident that patient data is current.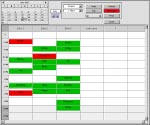 Scheduling Order
CardioReportware offers automatic scheduling, order, receiving, and billing synchronization. Our full scheduling module can be used independently or in automatic synch with hospital ordering or scheduling systems.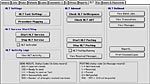 Friendly User Interface & Easy Customization
CardioReportware offers your database administrator convenient control of the full HL7 interface process. They are able to stop and restart each single interface module and each CardioReportware module. The full test option allows testing of each process or HL7 module. The single test option allows manually re-sending or re-testing of each single exam or message. And, each message or process can be manually viewed, edited, and printed. Full error logs are also available.