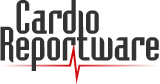 CardioReportware™ Modules for
Client-Server & Web Access
CardioReportware is an easy-to-use, fast, flexible cardiology software for report generation and revenue collection. It is designed to meet the special needs of doctors, scheduling personnel, lab technicians and billing/administrative staff.
The Echo module is the base application that streamlines the collection, analysis, reporting, archiving, and maintenance of a lab's echo database. Add-on modules for Nuclear, Stress, Vascular and Holter extend the application's capabilities to these specialty areas. Read our Module Overview for further information.
CardioReportware is built on the high-performance 4D platform, and is a powerful, but user friendly, software system designed and developed by cardiologists, for cardiologists. It runs as a client-server and a web application for 24/7/365 access to reports and essential patient information. Full HL7 support ensures seamless integration with your other critical systems.

Financing Available
Our special agreements with leasing companies can help finance your purchase.
Contact us for more information.