CardioReportware™ Imaging that is
Fully Integrated with Reporting & Scheduling
The CardioReportware Imaging Module is a web-enabled, multi-modality PACS solution utilizing a feature-rich viewer that offers a complete set of cardiology imaging features. It represents a dramatic advance in the technology for acquiring, distributing, retrieving, displaying and storing images. It meets end-user demands in cardiology practices and hospitals for seamless access from a single end-user point and allows the viewing of images and reports from anywhere in CardioReportware at anytime.
The new CardioReportware Imaging Module includes:
State-of-the-art facility-wide PACS Solutions
Integrated Advanced Clinical Visualization Tools
Images from different views and different modalities may all be displayed and viewed together. For fast review and selection, images are first displayed with preview screens where the number of previews shown is user-configurable.
Our new Imaging viewing module provides compliance with DICOM medical imaging software and DICOM worklist standards and is fully supported by different types of PACS radiology systems and PACS medical imaging software, for practices using them. CRW-PACS has the ability to convert the tags in the DICOM medical imaging software format coming from different vendors' equipment into usable titles in the PACS medical imaging software.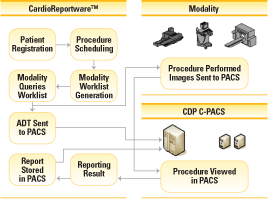 CardioReportware Imaging
PACS integration
Images can be launched directly and instantly from CardioReportware or you can open the CardioReportware patient exam directly from the Image Viewer.
CardioReportware Imaging Features
MultiModality viewing
Supports multiple image formats including 2D and 3D/4D
Study images displayed in thumbnail previews for easy review
Full-screen mode with various playback options
Diagnostic quality images
Brightness/Contrast control and automatic or semi-automatic image windowing.
Mouse adjustable zoom, lens and pan controls.
Unsynchronized or synchronized loop playback, speed control and sub-loop selection.
Automatic detection of DICOM media insertion/removal.
Complete access to all DICOM information and tags.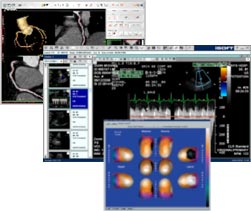 Exam Comparisons
One-click CD generation
No Clip length restrictions
HIPAA compliance
ICD9 and CTP codes integration
Bi-directional HL7 Messaging
Quick and flexible searches
Previous study comparison
Access to user specific viewing settings via roaming profiles
Multi-monitor capable
Image enhancement filters
Fast, secure access to data